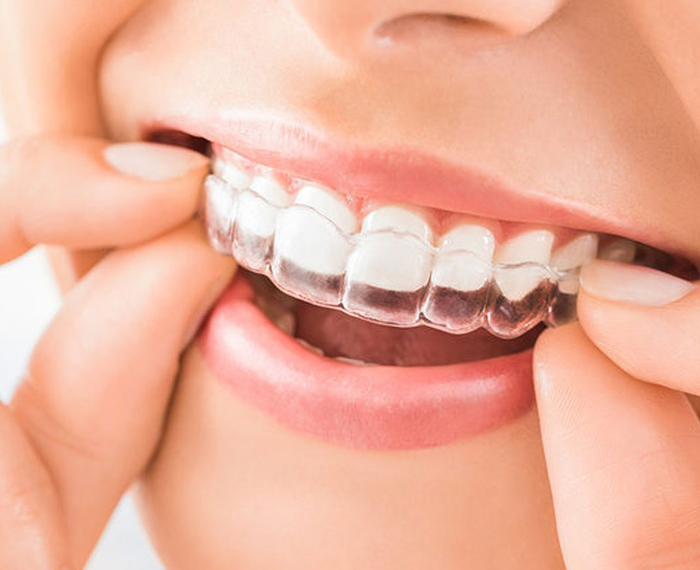 Clear aligners are transparent invisible, customized plastic trays that can help to straighten uneven teeth without braces. 
Global aligners provide a variety of solutions for aligners. Starting from economical aligners made in India to premium Invisalign™ aligners. Dr. Joshipura leads the team as an orthodontist himself. He is a certified Invisalign provider, so he is the best invisible aligner specialist in Ahmedabad.
With an In-house 3D scanning machine, we can provide you with a clear view of your present teeth condition, and they will look after the treatment. We have the world's best 3shape 3D scanner, ensuring that your invisible aligners are customized to perfection.
Advantages of aligners
They are transparent and invisible.

There is no restriction on food habits. You can eat everything as it is removed while eating.

Teeth can be easily cleaned.

You can avoid wearing them during important events/functions

They are predictable, and the result can be predicted even before we start the treatment.

They are very comfortable.

You don't need to visit the orthodontist frequently to get treated, even if you are in another country.

They are customized as per your teeth condition.
Indications for aligners/ are you a good candidate for aligners.
Deep bite

Open bite

Uneven teeth/crowding

Mild to moderate space between teeth.

Proclined teeth without jaw problems where you feel your teeth are too much in front.

crossbites
Tips for maintaining your aligners
Clean your aligners after every meal.

Clean your aligners with the solution provided by us or a denture cleansing tablet with a toothbrush.

Soak them in cleansing solution and rinse properly with water before wearing them.

Brush your teeth properly before putting the aligners back.

Don't leave the aligners open, as bacteria may get stuck on them. 
Tips to have a predictable result with aligners
Wear the aligners for full time. Your dedication/co-operation is the key. 

Wear the new aligners with chewies provided by us to make sure they are seated perfectly.

Make sure there is no gap between the aligners and teeth.

Let the orthodontist correlate the digital plan with the situation of your teeth after every few weeks.